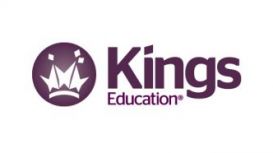 Kings was founded in Bournemouth 60 years ago by Frederick King, with Kings London opening in Beckenham in 1966. Mr King's vision was to promote better global understanding through education in the post-war landscape. These values and ethos continue at Kings today.
The world is developing at an increasingly fast pace and on an international scale. Global trade links, the internet and communication through social media are ever more important and international travel more readily accessible. It is therefore important that students are prepared to communicate, study, live and work with a global outlook.
At Kings, our role is to deliver relevant opportunities to prepare students to thrive on a global scale. Every year we welcome students from the local area and across the world, equipping them with knowledge and transferable skills and enabling them to win places at the most prestigious universities and sought-after degrees. We are very proud of our students' achievements and their progression to further studies at leading universities.
As a small independent college, we are able to provide individual study plans with flexibility on course duration (one and two-year options), entry dates (September and January) and the number of subjects studied (one to four subjects at A-level). We have built a reputation for the quality of our student support and the outcomes our students achieve.
Contact us and see how we can help you achieve your ambitions.
Products
Both A-levels and GCSE courses at Kings are defined by a highly intensive, highly personalised structure to ensure effective and efficient learning.
Very small classes are combined with a supportive, friendly college environment to ensure that individual progress, development of subject knowledge and transferable skills are maximised.
GCSEs at Kings
At Kings Brighton we offer an accelerated one-year GCSE programme with subjects that include Art, Biology, Chemistry, Economics, English, Information and Communication Technology (ICT), Mathematics and Physics.
Resits and retakes
We also provide programmes to allow students to resit or retake GCSE subjects where they haven't realised their full potential and have narrowly missed the required grades for progression.
Key facts
Start dates: 10 September 2018
Minimum age: 15
Length: 1 Academic year (3 terms)
Lessons: Average 20-25 hours per week (plus homework and private study)
Class size range: 4-10 students
Learning outcomes: Gain subject knowledge in preparation for A-levels Develop study skills required at Sixth Form level
Course structure
Main academic subjects:
Mathematics: 6 lessons per week, English: 6–8 lessons per week, Study Skills: 2 lessons per week, Science: 9–12 lessons per week, ICT: 4–6 lessons per week, Economics: 6 lessons per week, Art: 4–6 lessons per week
Enrichment programme subjects:
PSHE and Citizenship: 2 lessons per week, Physical Education: 2 lessons per week, Creative Arts: 2 lessons per week.
Sample enrichment activities:
Annual three-day learning and cultural excursion, UK and European study tours, Duke of Edinburgh's Award, Trinity Arts Award, Sports and Fitness clubs and activities, Debating Society, Photography Society, Drama Club, Production of Shakespeare plays, Arts Society, Textiles Club, Science Club, UK Maths Challenge, Current Affairs and News Club.
Mentoring for under 16s
Includes: Full supervision during college hours Monday – Friday, Welfare Counsellors, Half-termly reports, Separate Student and Parents' Portals, Regular contact with parents on request

From September 2018: Standard: £13,890 per year; Accelerated (1 year): 1 A-level subject: £5,630 per year, 2 A-level subjects: £11,260 per year, 3 A-l
Both A-levels and GCSE courses at Kings are defined by a highly intensive, highly personalised structure to ensure effective and efficient learning.
Very small classes are combined with a supportive, friendly college environment to ensure that individual progress, development of subject knowledge and transferable skills are maximised.
A-levels at Kings
Key facts
Start dates: 8 January 2018, 10 September 2018
Minimum age: 16
Length:
Standard: 2 Academic Years (6 terms).
Accelerated: 1 Academic year (3 terms), September start only
Lessons: Average 20-25 hours per week (plus homework and private study)
Class size range: 4-10 students
Fast-track one-year or traditional two-year A-level
We offer both the traditional two-year A-level with September and January start dates, and an accelerated, intensive one-year option, subject to availability.
Resits and retakes
The one-year options are designed to cater for students who are looking for an intensive course for one of the following reasons: to resit or retake subjects in which they have previously missed their full potential, to transfer from other programmes such as the International Baccalaureate (IB) Diploma, to add a further subject where a student has not met the pre-requisite subject requirements for their chosen degree.
4-10 per class
All A-levels are taught in very small classes of just 4-10 students to maximise teacher contact and interaction time with students. A-level subjects The selection of A-levels is a key issue for our students. Our aim is to provide a range of subjects which offer our students the maximum flexibility for progression to leading universities and degrees.
Our academic and UCAS teams liaise closely with admissions tutors to ensure we have a detailed understanding of university entrance requirements and preferred subjects. Our provision is informed by these discussions and has the facilitating subjects, as defined by the Russell Group, at its core.
A-level Reforms have added a new dimension to A-level decision making. Individual learning plans are discussed and agreed with every student, including consideration over the number of subjects taken and the value of sitting AS exams in the first year. Each student's progress is carefully monitored throughout their time at Kings.
Art and Design, Biology, Business Studies, Chemistry, Chinese, Economics, English Literature, Geography, Government and Politics, History, Mathematics / Further Mathematics, Modern Languages, Physics, Psychology.
We are also able to offer additional subjects, depending on demand and availability. Please contact us to discuss your specific interests.
Art and Design Foundation and Preparation Programmes
The Kings Art and Design Foundation programme provides students with the knowledge, skills and understanding of creative development and practice required by leading arts universities.
At Kings London we offer a one-year programme starting in September, an intensive January-start option and an extended programme of art preparation of 1, 2 or 3 terms to provide opportunities for experimentation and development of skills and creativity.
Key facts
Start dates:
Art Foundation: 10 September 2018, 8 January 2019
Art Preparation Programme: Termly
Minimum age: 17
Entry requirements: 1 A-level and portfolio. Students with a limited portfolio can follow our Art and Design Preparation Programme for 1 – 3 terms to build their portfolio and progress to join the Foundation programme.
Length:
Foundation: 3 terms (September – June or January – July)
Art Preparation Programme: 1, 2 or 3 terms
Lessons: Average 20 – 25 hours per week (plus additional private study, workshop time and homework)
Class size range: 4 – 12
Learning outcomes:
Students will explore a range of core concepts and methodologies, and experiment with a range of materials and techniques, to find solutions to communicate their concepts and ideas through creative practice. They will develop their communication and study skills to equip them for the application process and studies at university.
Students will realise and exhibit a final project, which will form the centrepiece of their portfolio for application to degree. Progress to wherever your imagination takes you
Specialist elective pathways include: Animation, Architecture, Fashion, Fine Art, Game Design, Interior Design, Product Design, Textile Design Degree options are limitless. Students have recently progressed to study degrees in: Advertising, Architecture, Book Making, Design, Embroidery, Fashion, Fashion Illustration, Fine Art, Garden Design, Graphic Design, Illustration, Installation Art, Interior Design, Jewellery Design, Landscape Design, Packaging Design, Printmaking, Sculpture, Textile Design.
Course Units
Part 1 — Learning skills and context
Unit 1: Art and Design Research Methods
Research methodology, contextual awareness, interpretation, evaluation and application.
Unit 2: Ideas and Development
Concept and idea generation and creative development using a broad range of approaches.
Unit 3: Materials and Methods
Experimentation with materials and methods to explore and deliver creative solutions and responses.
Unit 4: Evaluation and Reflection
Reflective analytical and evaluative skills, assessment of outcomes and experience for continued development.
Part 2 — Development and Progression
Unit 5: Integrated Art and Design
Integrated research, ideas and methods within the context of a chosen art or design specialism.
Unit 6: Preparation for Progression in Art and Design
Development and demonstration of a range skills, approaches and analysis; demonstrate potential for further progression.
Part 3 — Proposal and Realisation
Unit 7: Project Proposal and Realisation of Final Major Project culminating in a public exhibition
Take responsibility for personal learning, demonstrate achievement through the proposal and realisation of a large project which integrates contextual perspective, research, problem solving, planning and organisation, evaluation and reflection, practical, technical and presentation skills. Work to briefs to produce both two-dimensional and three-dimensional work, part of which will reflect a specialist subject area.
Reviews and Ratings
We do not have any reviews about Kings London available right now.