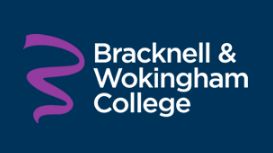 You will learn what it means to support an organisation's objectives and values, and give excellent customer service to represent a business in the right way. You'll need to be able to communicate with all sorts of people and have a clear and up-to-date knowledge of your company's products and services.
Good customer service is key to the success of any business or organisation. The highly transferable skills can be applied to hundreds of job roles across many different sectors including retail, financial services, hospitality and sport and recreation.
---
Contact Details
Bracknell & Wokingham College
Woodley Hill House, Eastcourt Ave
Reading, Berkshire
RG6 1HH
Get Directions
Show map
Reviews and Ratings
I have completed my English GCSE with this college last year and am going back to do my maths GCSE in September. This college has been great. I've had wonderful teachers who have been very helpful and supportive and I wouldn't have been able to complete my English GCSE without them.
Clean, modern and comfortable college with a great atmosphere for learning. Logistically seems to be run well compared to my previous college, no missing teachers to lessons, no timetable alterations in the middle of the year, teaching seemed very thorough especially with Karen (Maths) and Sara (2D AutoCAD). Studied 2D AutoCAD which seemed a very structured and enjoyable course as well as being complimented with a great tutor. Anyone looking to get into CAD, go to BWC!!
My experiences at Bracknell and Wokingham College have all been positive. I attended RSA Word courses and Access Art and Design and I loved every moment. The tutors were excellent and my tutor Una was a lady who gave me faith, drive and direction in my work. I am now represented by a gallery and always think of my time at B&W College favourably. Now it has a new building and facilities it can only go up.